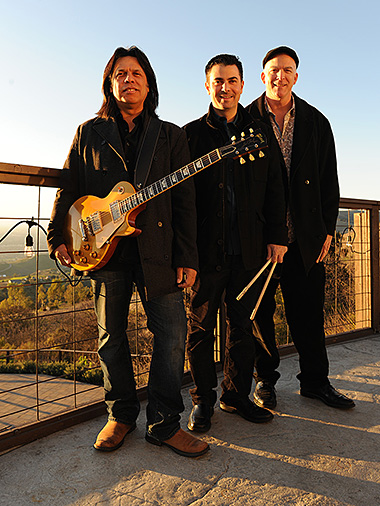 The Joe DeRose Trio is comprised of some of the Bay Area's hottest  players. The band consists of Ken Harrill on guitar, who's melodic playing will leave you breathless! Tony Stead who holds the keyboard chair, who is guaranteed to get your foot taping and your soul smiling! Joe, the leader and drummer, will get you grooving underneath it all and will get you up on your feet! The Joe DeRose Trio's music is an instrumental journey from the past to present. They play instrumental jazz/funk/pop and are sure to inspire your soul! The trio is available for club dates, private parties, events, festivals and weddings. You can check out the group the LAST Wednesday of every month at The Grand View from 6-9:30pm.  http://www.grandviewsanjose.com/
Ken Harrill
Ken is a versatile guitarist residing in the Bay Area. Ken studied music at Dick Grove school of music in Los Angeles and has given guitar lessons himself for over 20 years.  He has performed with Narada Michael, Greg Phillinganes, Patti Austin, Dennis Chambers, Little Anthony and the imperials, Booker T, Clearnce Clemens, Neil Young, Vince Neil (Motley Crue), Eric Martin (Mr. Big), a member of Sly and the Family Stone, members of Tower of Power to name a few.  Currently Ken is performing with Tony Lindsay, a lead vocalist of Santana and backing name artists coming through town. Ken has been a studio musician for over 30 years and has been heard on TV shows, movies, CDs, commercial songs, and computer games.
Tony Stead
Tony was born and raised in the San Francisco Bay Area and attended Berklee College of Music in Boston. He has deep roots in Funk, Bebop, Soul, R&B, Latin Jazz and Rock. The result is a playing style that soulfully reflects the SF Bay Area's musical melting pot.
Tony Stead is a sought after keyboardist, piano player, Hammond B-3 organist, vocalist, producer, and educator. His recent contributions include touring with Sly Stone from 2006-2009. He recorded and toured with Tommy Castro, recording several albums, earning six BMA's and Band of the Year 2010.  He recorded and toured for many years with the Grammy nominated Gospel Hummingbirds. He has played multiple tours with Joe Louis Walker with a recent performance on Conan O'Brien Show, and recently toured with Darlene Love.